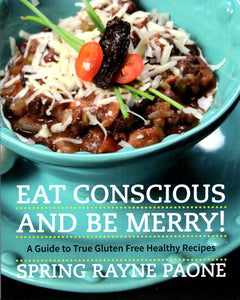 Eat Conscious and Be Merry! A Guide to True Gluten Free Healthy Recipes
Holistic Naturals is pleased to announce its first cookbook by owner Spring Rayne Paone!
Eat Conscious and Be Merry is an amazing true Gluten Free Cookbook that teaches people how to eat for optimal health. It is a great way to learn how to overcome dietary issues related to auto-immune disorders, cancer, diabetes and many more health conditions. These recipes are so delicious; you would never guess they are gluten free and healthy! They are vegetarian/vegan and almost all using no sugar, but raw agave instead. It also introduces you to new raw foods recipes used for optimal health. 
There are a wide variety of baked goods like strawberry donuts or waffles and even hearty dinners like Black Bean Burgers, Garden Pizza or Vegetable Pot Pie.